Skype has just rolled out its all new version for Windows with major upgrades and improvements. The news was announced on the company's official blog. The new Skype 5.0 beta is available for download and now it allows for up to 10 video callers. It allowed 5 callers in the previous version and now the group support is doubled.
This feature is a God send for international virtual company meetings and family/friends reunions. Skype has also revamped the user interface and provided automatic call recovery. Call quality is also improved and there are a number of bug fixes to make the overall calling experience much smoother.
The new Skype is definitely a fitting reply from the company to Google's recent Inbox phone feature and makes Google Voice and Google Video Chat look ancient and outdated. Skype is still free around the world while Google's Inbox phone calling costs you when calling anywhere outside the US and Canada.
The new version is still in its beta stage so it can be problematic and has a few bugs. It's also limited to Windows users and all group chatters will need to install the new version to use the 10-way video calling option.
Start using the new version and add more friends and family members in the conversation.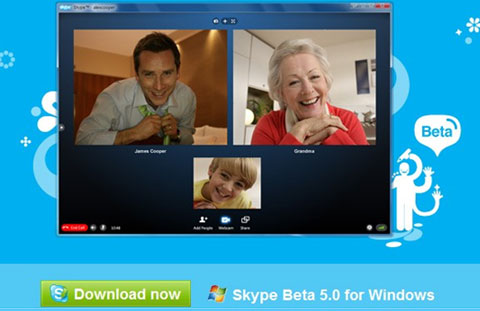 You Might Also Like:
Like this post? Post Comment and Subscribe RSS