After smartphones, tablets seem to be the next most popular device among manufacturers as new models equipped with all sorts of smart functions possible keep popping up in the market every now and then. The latest to join the club is a 7-Inch Android based tablet called Cius (pronounced 'See us') from Cisco. Aimed at business users, the new smart device was launched today by CEO John Chambers at a conference in Las Vegas.
Smaller than an iPad, the Cius weighs only 1.15 pounds and is a virtual desktop and telecommunication machine, complete with a front facing 720p HD camera and a second, 5-megapixel rear-facing camera. The device works with cellular 3G and 4G networks, as well as with Wi-Fi and Bluetooth. The device will also run a myriad of Cisco software products such as Cisco Quad, Show and Share, WebEx, Presence and Cisco TelePresence; it also supports Unified Communications Manager and it looks like these apps will run as modified Android applications. It will be generally available in the first quarter of 2011.
Here is a list of major features of the Cisco Cius:
Tablet Capabilities:
802.11a/b/g/n Wi-Fi, 3G/4G data and Bluetooth 3.0 help employees stay connected on and off-campus.
HD video (720p) with Cisco TelePresence solution interoperability for lifelike video communication with the simplicity of a phone call.
Virtual desktop client enables highly secure access to cloud-based business applications.
Android operating system, with access to Android marketplace applications.
Collaboration applications including Cisco Quad, Cisco Show and Share, WebEx, Presence, and IM.
Tablet Highlights:
7" diagonal, high-resolution colour screen with contact-based touch targets.
HD Soundstation supports Bluetooth and USB peripherals, 10/100/1000 wired connectivity and a handset option.
Detachable and serviceable 8-hour battery for a full day of work.
Highly secure remote connections with Cisco AnyConnect Security VPN Client.
HD audio with wideband support (tablet, HD Soundstation).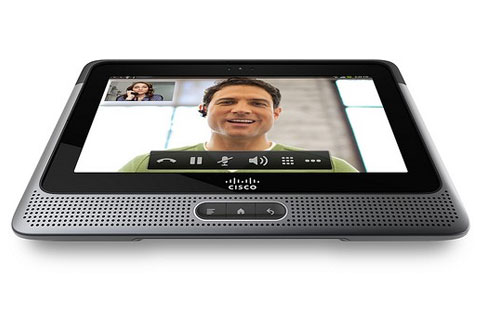 You Might Also Like:
Like this post? Post Comment and Subscribe RSS