Apple had very quietly acquired its first web mapping company 'Placebase' in July 2009 and now in the July of 2010, it has bought another one. Poly9 is a small Canadian company based in Quebec which is now reported to be under Apple's acquisition with all employees except 2 who declined the offer, relocated to California. This could mean only one thing; Apple is secretly developing what can only be called a rival to Google Earth.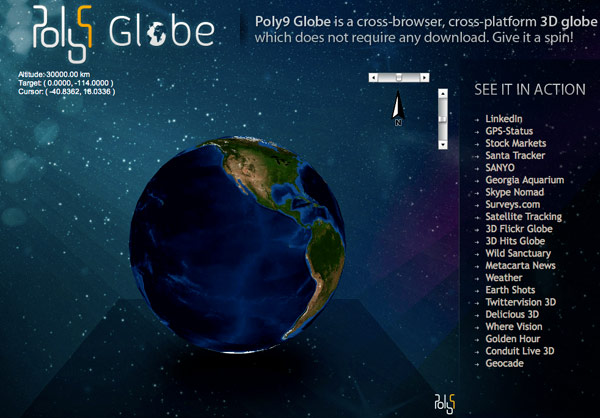 All the details have been revealed by the French-Canadian reporter Pierre Couture of cyberpresse.ca via Google Translate. Further confirmation comes from the fact that Poly9's official website is now down and phone lines don't respond. The news is being kept secret with all involved signed on to secrecy deals, says the cyberpresse.ca reporter.
It's obvious that Apple is also aiming to replace Google Earth as the default mapping iPhone app as Poly9's Globe site is described as
a cross-browser, cross-platform 3D globe which does not require any download.
It is a lightweight, browser-based, spinning globe that only takes up 303kb of memory—perfect for an iPhone.
If Apple actually launches its own mapping software and apps, it'll be a major breakthrough in challenging Google's current monopoly in the online geological mapping services.
[via Engadget]
You Might Also Like:
Like this post? Post Comment and Subscribe RSS