The latest edition of Facebook scams is here: the 'Dislike' button. This is to warn users that the fake button is doing the rounds currently on Facebook and appears in people's status updates with a message saying:
I just got the Dislike button, so now I can dislike all of your dumb posts lol!!" or "Get the official DISLIKE button now" or " Get the official DISLIKE button NOW!
The update is followed by a link which is another one of many scams that aim to extract your personal data. We know that almost all Facebook users would love to have a 'Dislike' button along with the world famous 'Like' one but it hasn't arrived yet officially. Facebook CEO Mark Zuckerberg said in his ABC interview last month that the company is considering add the 'Dislike' option and needless to say that if the button does arrive, it'll be added automatically to your profile.
The current scam link directs you to an elaborate Facebook dislike button "install" page. If you follow the instructions, you'll be asked to give the app permission to run, after which you'll be asked to complete a survey, similar to the surveys found in many other scams we've seen recently. Allowing the app to run will silently update your status with the same message adding money to the scammers' bank account.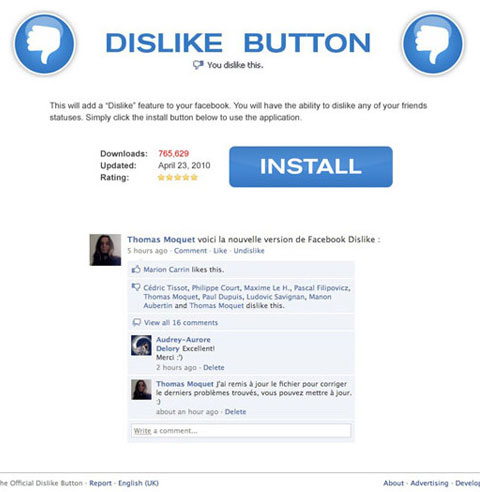 Users should avoid clicking on any of these links appearing in their friends' updates or even if you do, don't fill any personal information and once you realise the fraud, remove the offending app(s) from your Facebook profile; furthermore, remove the related message from your status, News Feed, and your Likes and Interests in the "Edit my Profile" menu.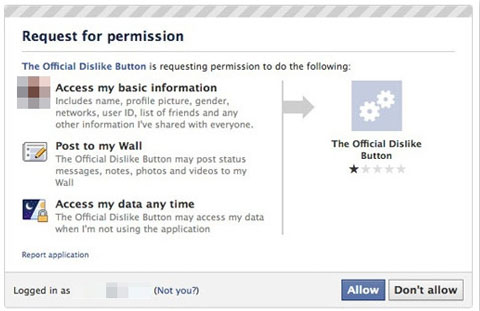 [via Sophos]
You Might Also Like:
Like this post? Post Comment and Subscribe RSS