Google seems to be wooing non users to give it a try as now a Gmail account is no longer necessary to use the Google Documents service. A new site docs.google.com/demo was just launched which allows non Google users to try full-fledged versions of its word processor, spreadsheets and drawing tool.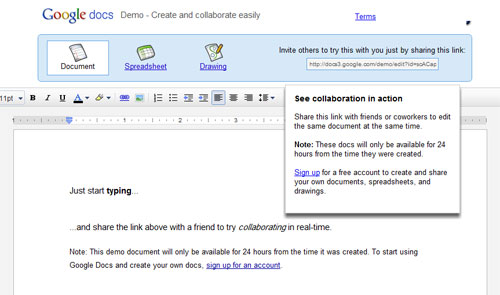 The site allows first time users to invite other non Google users and is easy to use. Launched in 2006, Google Docs allows users to keep their data safe for free at a web location, share documents and collaboratively work on them in real time. It also comes in handy in case of a hard disk crash or any other technical mishap.
Allowing access to non users will introduce millions of users to a service they were probably not using because it required getting off their favourite accounts. Now it's possible to use it without changing accounts and it is sure to bring in a lot of converts to Google. Good thinking!
You Might Also Like:
Like this post? Post Comment and Subscribe RSS