This might change the world of home videos and family photos forever. It looks like a 3D revolution is about to hit the world as world's first 3D camcorder, DXG-5D7V from Panasonic for ordinary consumers is now available for pre-order. It's no longer just the super rich Hollywood film companies that own the technology, now you can make your very own 3D movies, take 3D photos and immediately play them directly on the 3.2-inch LCD camcorder display, on the included 3D 7-inch media player, or directly on your 3DTV, if you have one. The best part is, no 3D glasses required.
The 3D craze is taking over the world of cinema, computers, television and now it's coming to consumers' home. It costs $ 600 and comes with 3D 7-inch media player bundle. Supporting up to 16GB high-capacity SD cards, you can record hours of footage in 3D and take 3D 5-megapixel still images, as well as capture 2D video and pictures. A built-in MP3 music player, alarm clock and calendar, HDMI and AV cables for easy playback on your 3DTV are also part of the package. This is a great deal and value for your money as the technology you pay high prices to watch in 3D cinemas with funny glasses is now in your hands and doesn't cost as much as it cost James Cameron to make his little 3D film called Avatar.
The camera starts shipping on 6th August and you can place an order on www.hammacher.com.
Check out the impressive features of the DXG-5D7V 3D Pocket Camcorder below.
Dimensions: 1.63″ (W) x 4.88″ (H) x 2.93″ (D)
LCD: 3.2-inch 3D TFT Display
Storage: 128MB Built-in Memory; Supports High-Capacity SD Cards up to 16GB
Video Resolution & Format: VGA Standard 3D Dual-Lens Technology; H.264 AVI File Format
Still Photo Resolution & Format: 5-megapixel; JPEG format
Power Supply: NP-60 Li-ion Battery
Zoom: 4X Digital Zoom (2D mode only)
Connections: HDMI interface and cable; USB/AV cable for connecting to the TV or to your PC or Mac
Software Included: 3D Video Conversion Software
Other Items Included in Package: 3D Media Player, Camcorder case, HDMI cable, USB/AV cable, NP-60 Li-ion battery, battery charger
DXG 3D Media Player features:
Dimensions: 8.39″ (W) x 5.41″ (H) x 0.94″ (D)
LCD: 7" Parallax-Barrier Auto-Stereoscopic (Glasses-Free) TFT Display
Resolution: 800×480
Display Effects: Normal, black and white, Sepia, Lens Distortion
Video Format & Resolution: MPEG4, AVI, 720×480p at 30fps
Audio & Image Format: MP3; JPEG
Control Format: Touchable Keys, Remote Control
Audio & Video Output: AVOUT, Earphone Stereoscopic Output
Storage: Supports SD/MMC
Power Supply: 5V DC, 2A
Output Interface: USB 2.0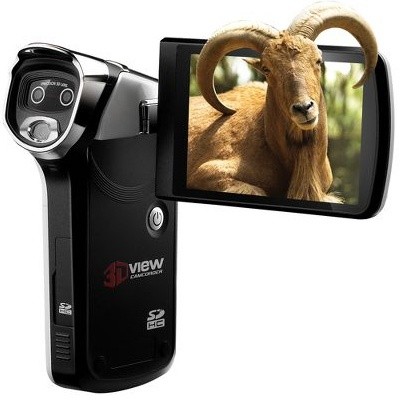 [via Engadget]
You Might Also Like:
Like this post? Post Comment and Subscribe RSS