Amazon announced the launch of the Kindle app store nine months ago and claimed that a lot of developers had showed interest in developing apps for their e-reader. The app store couldn't materialise as per the claims and featured only two free games developed by Amazon's own team members till now. The situation changed today as the first paid game app, Scrabble, made its debut on the Kindle. The $ 4.99 app is developed by Electronics Arts and Amazon will take a 30% cut of revenue from the app sales.
Kindle is a device specially designed for people with a love for reading and hence Scrabble is the most obvious first choice to make available for Kindle's intellectual consumers. The game requires simple, five-directional navigation and shows up in a Kindle user's home screen, right next to existing games and books.
Players use the controller to navigate to particular spaces, and once they've chosen a direction, they can just type out words. There are also smartly-chosen menu options, including a very useful list of two-letter words.
Scrabble is already a popular game on the internet with Lexulous being one of the big hit games on Facebook. The only drawback of the Kindle version of Scrabble is that it doesn't support social options as users can not play with friends online. You can either play alone or set up a two-player game with a friend.
The app is available to download from Amazon's Kindle app store now.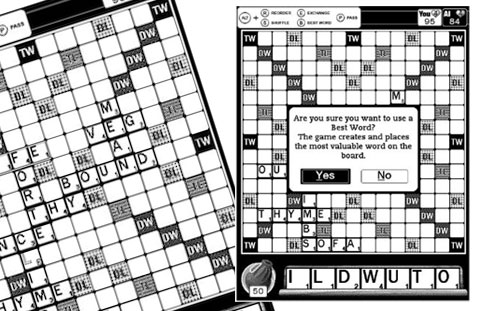 You Might Also Like:
Like this post? Post Comment and Subscribe RSS