After introducing the official Tweet button for web pages and blogs a few days ago, Twitter has just released a browser based tweet button to allow users to just click to share the web page they're on with followers. It's extremely simple to install and all major browsers are supported.
Twitter users can drag the "Share on Twitter" bookmarklet to their browser's bookmarks bar and they'll be ready to share any web page they want on Twitter with a click. The Bookmarks Bar is also known as the Favourites Bar or the Bookmarks Toolbar. In some browsers you may need to go to your View menu to choose to show it.
A click of the button opens a new window with the web page title and shortened URL, find the page you like and then click it. Twitter is using its own URL shortener to shorten the links users share on Twitter via the bookmarklet.
The button is handy for users who prefer Tweeting via web rather than a client like TweetDeck and also don't want to use the tweet button on web pages.
You can find the share bookmarklet here.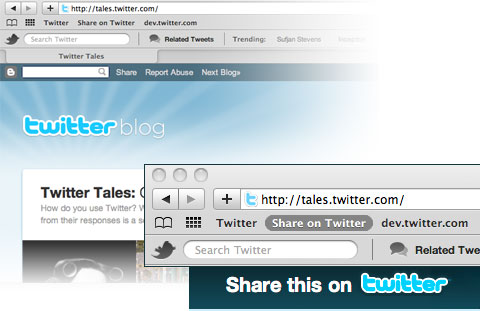 You Might Also Like:
Like this post? Post Comment and Subscribe RSS