There are countless times when we wish we had not hit the 'send' button after writing a quick email and somehow could stop the message from going through or call it back. Sometimes you forget to attach files to an important message and look foolish in front of the receiver who could be a client or your boss. Now it's possible to 'Undo' your send command to your Gmail messages within 30 seconds. Thanks to Gmail Labs.
Gmail Labs is a testing and developing platform for features that aren't quite ready yet to roll out but users can opt to test and use them and send feedback to help Google improve new Gmail features before public releasing. A lot of users are not aware of the feature or even if they are, they don't usually check it to see what new options are available for users to test.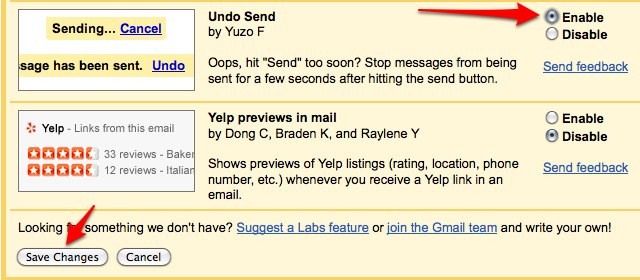 "Undo Send" is one such feature which is now available for you to enable and start using and send feedback if you wish. It's still in testing stage as all Gmail Labs features and may malfunction occasionally but it also may not and may become one of the most popular features ever provided by an email service. Here's what you need to do.
If you're already using a labs feature, you must be aware of the green labs icon on your page and can access it directly. All those who have never used a Gmail labs feature, open your "Settings" page and then click on the "Gmail Labs" tab from the top menu. Now, you'll see a list of new features that are currently available for testing. "Undo Send" is the second last box in the list and is very simple to use as you just need to choose the "Enable" button to activate the feature. Once you've done that, hit "Save changes" and you'll be redirected to your main Gmail page and you'll see a little green labs icon between your e-mail address and Settings. This means you're now using a Labs feature and you can directly access the labs page by clicking on it instead of going to the Settings page first.
Gmail gives you a 10 second default period to undo the send command but you can change it to 5, 20 or 30 seconds by opening the "Settings" page and then the "General" tab. You'll see the Undo Send box on number 6 in the list. Choose the duration you want from the drop down menu and hit "Save changes" at the bottom. Now you're done and Gmail will re direct you to the main page.
This is no doubt a fantastic option and bound to go viral very soon. It will definitely put pressure on all other email services to develop a similar function to keep users from switching to Gmail. Try the feature and let us know what you think.
[via Mashable]
You Might Also Like:
Like this post? Post Comment and Subscribe RSS