Looks like Apple is all set to break some more sales records with the iPad as it just announced the launch date of the tablet in China. Apple will be selling the WiFi variant of the iPad in China from 17th September. The sales will begin at 10:00 am on Apple retail stores and select authorised resellers.
The prices for the iPad Wi-Fi models in China are CNY3988 ($590) for the 16GB model, CNY4788 ($708) for the 32GB model and CNY5588 ($827) for the 64GB model.
China is known for its cheaper versions of all possible gadgets manufactured around the world and there are already a whole bunch of iPad knockoffs doing good business in the Chinese markets. It would be interesting to see whether Chinese customers prefer the original but more expensive devices over these cheaper copies.
Apple just opened 3 new stores in Shanghai, adding to an existing store in Bejing. The stores have seen massive success so far with products including iPods and iPhones selling out completely on the very first day of launch. It's obviously this popularity which has encouraged Apple to increase its stores in the world's most populated country as it plans to build at least 2 dozen stores across China.
It was reported in August that China Unicom is the company that will be bringing the iPad to China soon and the time has finally come to test the biggest Asian market for a massively popular American product. Apple also announced that it will be launching the iPad in "many more countries" by the end of the year. The company promises to announce pricing and availability at a later date.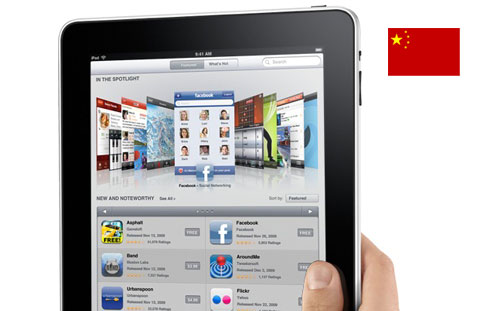 You Might Also Like:
Like this post? Post Comment and Subscribe RSS