We focused our review on Arvixe's PersonalClass package available through the company's shared hosting plan. While there are additional features available in more expensive web hosting packages, this starter plan has everything you need to run a site, whether you're a small business owner hosting a webpage for the first time or an experienced site manager migrating a site you hosted elsewhere. Arvixe is the clear Top Ten Reviews Gold Award winner for the best web hosting sites. It proves its impressive 99.9 percent uptime, has great support options and a useful website builder.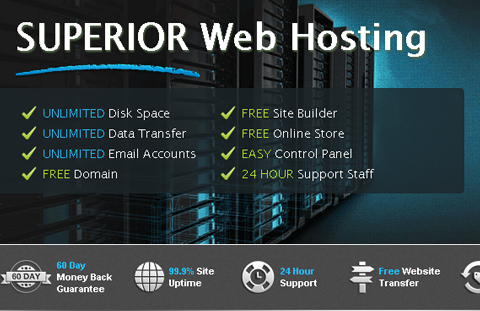 Arvixe offers only two plans under its basic shared server structure, the PersonalClass plan and the PersonalClass Pro plan. The only difference is the number of domains you are able to host. While the number of shared hosting plans is limited, you can always upgrade your plan through VPS or dedicated plans if your needs change. You can even purchase your own dual processor server.
Parking domains can be very important if you have URLs that you intend to develop, but don't have plans to monetize yet. In addition to the six domains you can host on your account, this web hosting site allows you to park up to six domains under one account for resell or launching purposes.
Arvixe gives you unlimited POP3 and IMAP email accounts with @yoursitename.com addresses. Essentially, this gives you the ability to create any customized email address that brings legitimacy to your site, but it also serves as an automatic catch-all. Since anything sent to an email with an @yoursitename.com address will come to you, you will still get the email in your inbox even if someone misspells or doesn't know your specific email address.
Help & Support
This service is to be one of our highest-ranking in terms of service. It offers the standard 24/7 phone support, as you'd expect. The Arvixe site and cPanel also lead you to a number of support options, ranging from email ticketing, video tutorials and user forums.
In our experience with Arvixe, the company typically had quick turnaround times for support, but we did notice that response times could vary greatly. For instance, during peak business hours we waited several minutes on hold. Other times, we only had to wait a minute. We timed our average wait time to reach technical support over live chat, and it took an average of 15 minutes. Whether by phone or chat, the reps gave us informative answers. We didn't feel pressured to purchase a higher plan and had a helpful and accommodating experience.
Control Panel Options
The PersonalClass shared hosting plan focuses on putting your content online, and it also can run nearly hands-free. As the registrant, there's very little you need to worry about; however, you do have some hands-on control via the control panel. Arvixe uses the industry standard cPanel, specifically version 11.42. No one could every accuse cPanel of being pretty. In fact, it's basically built for utility's sake, not as an attractive interface.
At first glance, the control panel can be a bit overwhelming, and in the beginning, you may find it cumbersome to navigate. Unless you have first-hand experience with web hosting or using cPanel, a little time and research will likely be required before you are comfortable and familiar with the service.
This version of cPanel has everything you need to register and host a handful of sites. The file manager portion of this web hosting program lets you create, edit and remove content from your site without every having to directly log in to your site.
Arvixe offers an array of both basic and advanced web hosting features. When it comes to creating your site, the service provides easy-to-use site builders that are directly integrated into the cPanel. The service also provides access to raw access logs, the latest version of phpMyAdmin and one-click app installs. In fact, Arvixe offers access to a large script library that includes blogs, CMS apps and more, and that can be installed on your site in a single click. Not many web hosting services offer a script library, and access to one can help you easily create a unique and dynamic website without requiring you to code anything.
Once your site is published, Arvixe provides site stats that allow you to gauge its performance. You can use the integrated AWStats or Webalizer software to track your site's statistics, ranging from monthly site visitors to bounce rate, and you can also access subdomain stats and raw access logs. Access to such information is important as it can help you pinpoint areas of your site that may need improvement.
Security
The standout feature, and part of what makes this the best web hosting service, is the free domain for life. Clearly, this is meant to keep you subscribed to the company as long as possible, but having them pay for your domain as long as you are a member is a nice benefit. It's really a win-win for you and the company. If you have a current website with another provider, Arvixe will migrate the domain over for free.
When using a shared server, site security definitely takes a hit. Starter plans just don't offer the protection that a dedicated server can. However, you won't be left vulnerable. Arvixe makes good use of SSH, which allows you to remotely access your account after being authenticated by a two-step, password-protected login. Arvixe also uses Shared SSL, which adds security and encryption to any URL you own.
Arvixe Summary: 9.7/10
Arvixe provides stellar web hosting services, with plans and features designed to meet a wide range of hosting needs. The service isn't instantly straightforward, and it will require some hands-on effort to become familiar with how it works. Despite these nominal shortcomings, the robust functionality and all-inclusive hosting plans make Arvixe one of the best companies in the sphere of web hosting services.
You Might Also Like:
Like this post? Post Comment and Subscribe RSS