Looks like it'll be raining tablets this year during the Christmas holiday season. First the new smaller iPad and now another tablet that Google and Verizon have been working on for a while, is rumoured to be arriving for the holiday shopping season. In fact, this time a date has also been announced: November 26 or this year's black Friday in the US.
The news is reported by Download Squad who claims it to be coming from a confirmed source. The tablet will run on the Chrome OS and is being built by HTC who have also built Nexus One for Google. Reports also hint that the tablet could be as cheap as free with a Verizon data contract which could obviously give it an edge over the iPad.
Download Squad are also predicting some major hardware features which may include NVidia's Tegra 2 platform, 1280×720 multi-touch display, 2GB of RAM, minimum 32GB SSD, WiFi/Bluetooth/LTE connectivity, GPS, webcam, and possibly expandable storage via a multi-card reader.
It's important to note that details of the Chrome Web Store emerged yesterday and a Chrome OS based tablet will obviously benefit heavily from the app store once it's launched. May be it's intentional on Google's part to build the new tablet on Chrome instead of the Android platform that powers the recently launched Dell Streak.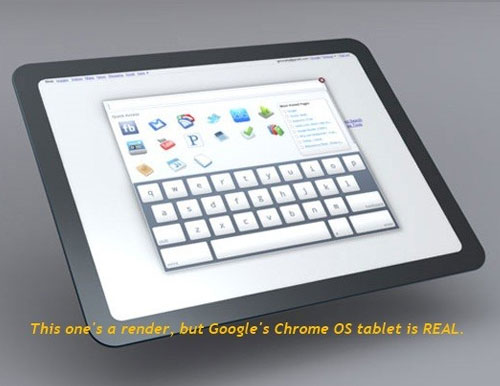 [via DownloadSquad]
You Might Also Like:
Like this post? Post Comment and Subscribe RSS