All iPhone users (all models) have been reporting furiously online about the iPhone app for Facebook crashing repeatedly with no solution is sight still. While some users also reported it getting back to normal but the majority still have the app refusing to load and re-installing doesn't help. The biggest number of complaints was reported on Twitter and that too not only from the US but iPhone users around the world.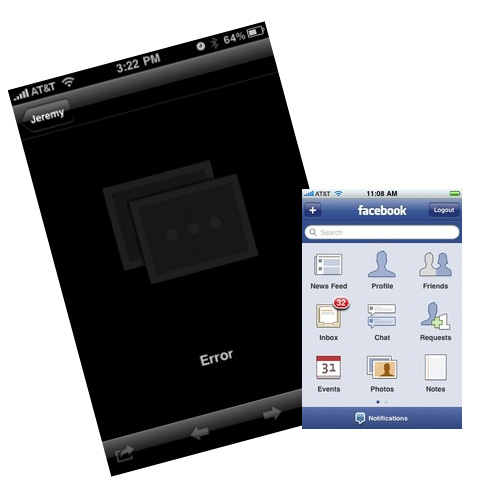 The issue became the hottest topic on blogs, chat forums and Apple's official support forums online with users describing how the app begins to load but then crashes and takes you back to the main page. Some users reported the screen freezing and then going black before returning to the home page when they tried accessing the 'Notifications' tab.
Though the option to use Facebook at Facebook.com through the iPhone is still there, it's the Facebook app that all users seem to be addicted to and prefer using. Readers at Huffingtonpost suggested bad JavaScript behind the problem but the extent of the problem suggests multiple reasons.
Facebook's iPhone app is the most downloaded item on iTunes and with Facebook being the biggest social network around the world it's safe to assume that all those who happen to have an iPhone and a Facebook profile, most definitely use the app. The reason for its success is simple; the app allows users to use the social network exactly like they would on the web making all features from status updates and 'likes' to uploading photos available. The app also integrates with the iPhone's email and phone, so you can call or email a friend — as long as your friends have that information listed. The app will also automatically add Facebook profile pictures and contact information to your iPhone contacts if you enable syncing.
The crash may be causing alarm amongst addicted users and may generate some backlash too but it is nothing un expected or un likely. Reviewers warned upon the app's launch that it won't be completely fool proof and will remain vulnerable to crashes, needing updates from the OS developers. The problem is sure to be addressed by both the companies and the app should be back to normal soon as millions of fans around the world can't ignored by any one of them.
You Might Also Like:
Like this post? Post Comment and Subscribe RSS