As predicted, Google launched their whole new real time search technology at the company's San Francisco press event yesterday. Marissa Mayer, VP of Search Products & User Experience at Google, conducted the event and introduced the new way to search on the internet with 'Google Instant'.
The new feature is all about speeding up the search process for users and reduce it from the current time they spend searching for their particular result through pages of links and URLs that turn up when they hit enter. Google Instant searches before you type the complete search term and shows results by predicting your query as you continue to type. There's no hitting the enter button now, you just have to hit the tab to complete a search query, or you can scroll up and down with the arrow keys to see search results for different related or predicted queries.
"Google Instant will save 350 million hours of user time, over a year," said Marissa Mayer at the event. Currently the average query length is about 20 characters and the average time for a user to pick a result is 15 seconds. Google Instant will reduce this time to provide the user with his intended result in less than a second.
The presentation at the press event showed that when a user types 'W' in the Google Instant search bar, the engine at once predicts the query to be 'weather' by showing the word in grey and with it a complete weather chart for the week below. As the user continues to type, the engine keeps predicting and showing results that keep changing with each alphabet.
Google Instant is available on Chrome, Firefox, Safari and IE8 in the US for now. It'll start rolling out to international users in the coming weeks and will be available soon in the UK, France, Germany, Italy, Spain and Russia. Rest of the world will follow in the weeks to come and it'll be made available on mobile devices this fall. It will take a few months to arrive in your browsers and even then will be available on Chrome only for a while.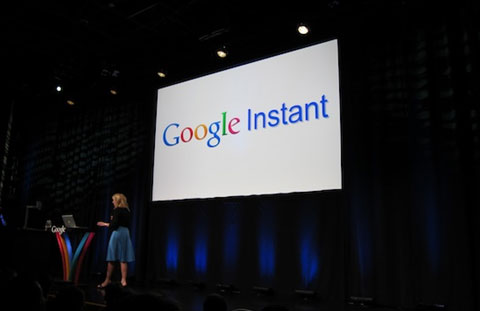 You Might Also Like:
Like this post? Post Comment and Subscribe RSS