If you haven't done it already, head over to goo.gl and check out Google's latest product that's sure to become the world's favourite when it comes to services that shorten long URLs. There are a couple of existing services like Bit.ly which became popular with its shortened web addresses on Twitter. Now Bit.ly is in for some very tough competition as Google is not only world famous and trusted by everyone, it's also bringing a lot of new security features and fun tricks with the service.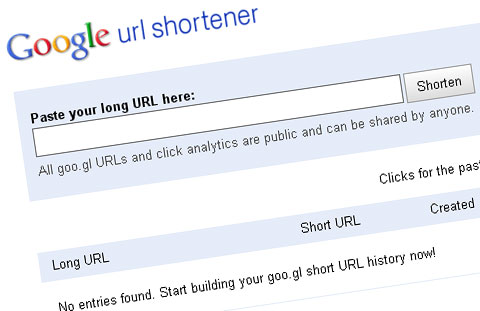 Long URLs eat up characters on social media like Twitter and look bad in emails and on web pages. You can always create a hyperlink but all social media and web sites don't support posting hyperlinks and you can't trust every hyperlink you see on the web as you may end up with a malicious virus or be directed to a nasty porn site. Here's where URL shortening services come in and Google's goo.gl is definitely the best one though it's just a day old.
Google has created a separate website for goo.gl so you can just head over to the page and turn any long URL in to a small easy to post address which won't take a whole tweet to share on Twitter. Google promises complete security and speed with the service as it features automatic spam detection and "near 100% uptime since our initial launch," according to the company's announcement. The product also comes with expected URL-tracking features. As a goo.gl user, you can log in to your Google account to view URL history, traffic sources, referrers and visitor profiles for countries, browsers and platforms.
Google wrote about the service in their official blog, saying:
There are many shorteners out there with great features, so some people may wonder whether the world really needs yet another. As we said late last year, we built goo.gl with a focus on quality. With goo.gl, every time you shorten a URL, you know it will work, it will work fast, and it will keep working. You also know that when you click a goo.gl shortened URL, you're protected against malware, phishing and spam using the same industry-leading technology we use in search and other products. Since our initial release, we've continued to invest in the core quality of the service:

Stability: We've had near 100% uptime since our initial launch, and we've worked behind the scenes to make goo.gl even stabler and more robust.

Security: We've added automatic spam detection based on the same type of filtering technology we use in Gmail.
Speed: We've more than doubled our speed in just over nine months.
There is a fun trick that you can use to unravel a hidden easter egg in the service, as Google is known to do with its products. Just add 'qr' to a shortened URL and you'll create a QR code that, when scanned, will redirect to the original URL. This will specially come in handy for brands and marketers experimenting with QR codes. A Twitter user also informed that you can add 'info' to the goo.gl URL to check out analytics.
Google is rumoured to be launching their social media service 'Google Me' in the coming months and goo.gl will surely be the handiest tool in sharing content on the network.
You Might Also Like:
Like this post? Post Comment and Subscribe RSS