India and Brazil are the biggest Orkut using countries in a Facebook and Twitter crazy world but things are changing very fast in India in favour of Facebook. Data from ComScore reveals that Facebook attracted 18 million unique visitors from India in the month of May, compared to Orkut's 19.7 million. In the past year alone Facebook grew 177 percent from 6.5 million Indian visitors, compared to 35 percent growth for Orkut. Facebook officials are hopeful that data from June may reveal a Facebook take over after all.
It was announced last month that Facebook will be opening an office in the India city of Hyderabad this year with a staff of 500 people. The company is focusing on India as a big target market owing to its fast growing middle class which has access to computers, internet and cell phones.
India may be late in joining the Facebook country as most South Asian countries including Pakistan dumped Orkut for Facebook about 3 years ago, but it's getting there after all. Looks like soon Brazil will be the only country in the world faithful to Google owned Orkut with 29 million users, compared to Facebook's 8 million. Google should be thanking them but even they are busy developing a Facebook competitor realising that Orkut isn't doing it for them any more.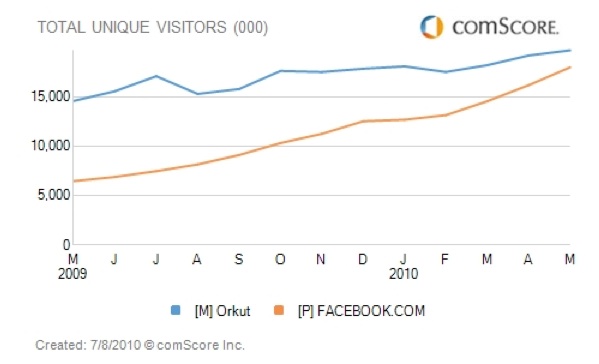 [via TechCrunch]
You Might Also Like:
Like this post? Post Comment and Subscribe RSS