If you're sick of your ancient LCD monitor, have a small working space and also wish to be environment friendly, Acer has come to your rescue. Acer America is launching its new range of super thin, environment friendly and space conscious LED monitors today. The new S1 series combines the latest LED technology with a slim 13mm to 15mm profile, low energy consumption for minimum environmental impact, a range of sizes (23-inch, 21.5-inch and 20-inch) and innovative display technologies to deliver crystal clear images.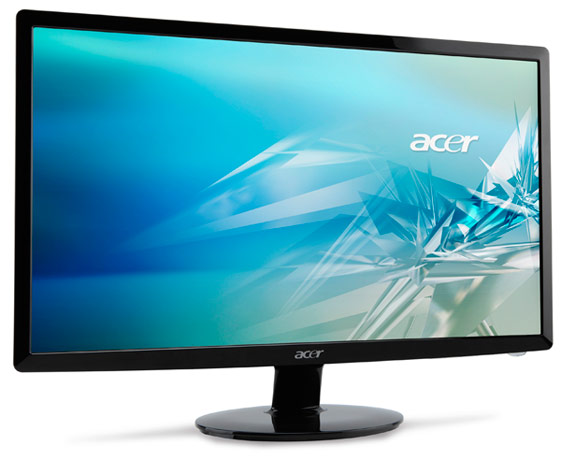 Acer stressed in its official statement that it has paid special attention to making the new models as eco friendly and energy saving as possible.
All of the S1 models feature white LED backlighting, which does not contain hazardous substances such as mercury or halogen gases, making it safer for the environment. Additionally, white LED technology consumes less power, providing up to 68% power savings to users.
Some other smart features Acer is offering with the shiny new monitors were also proudly mentioned in the official press release:
Perfect for viewing high-definition videos, movies and other digital content, all of the S1 series of displays feature rapid 5ms response times, 250 cd/m2 brightness and 16.7M colors. Each of the new displays ensure easy connectivity to home entertainment devices and office peripherals via a VGA port or DVI port with HDCP protection (depending on the model.) The 23-inch model also comes with an all-digital HDMI interface, delivering exceptional high-definition viewing and top-quality uncompressed video.
The price range for the new Acer S1 series is pretty competitive as now you can get a whole new visual experience and lots of smart features for $169.99 for the 20-inch model (S201HL), $219.99 for the 21.5-inch model (S211HL) and $269.99 for the 23-inch model (S231HL).
You Might Also Like:
Like this post? Post Comment and Subscribe RSS