Android enthusiasts have something more to celebrate and look forward to as the days of feeling embarrassed for the lack of an iPod Touch like gadget are over. Several reports have revealed that Samsung is developing an Android based iPod Touch alternative calling it YP-MB2. Photos of the device show a beautiful rectangular device powered by Samsung's famous line of YEPP portable media players.
The YP-MB2 is slated to start shipping on 11th August from Samsung's home country South Korea's Daum store. The device carries touch screen features similar to the Samsung Galaxy X Android smartphones and is expected to include a 1GHz processor, Wi-Fi, FM radio, DMB TV, GPS and a 4-inch Super AMOLED screen. Storage is listed as 32GB, with an option to expand using micro SD cards. Supported audio and video formats include MP3, Ogg, FLAC, AAC, WMA, WMV, ASF, AVI, MPEG4, DivX, and Xvid.
The photo of the YP-MB2 also reveals the Android App Market logo on the main menu which will be a major attraction as getting the option on a gadget other than a smartphone is very rare. Another very important feature of the shiny new device is Android 2.1 skinned with Samsung's TouchWiz interface. All other android based non smartphone devices from different companies have Android 1.6 or lower which is a let down. Samsung is the first company offering Android 2.1 and this is sure to attract and increase sales once the YP-MB2 hits shelves around the world.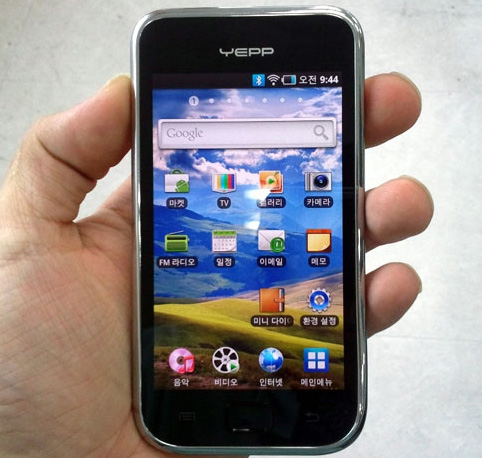 [via CNet]
You Might Also Like:
Like this post? Post Comment and Subscribe RSS