MySpace is re-launching itself officially on 16th August with a whole new design, home page and lots of new and updated features and tools to compete and get back in the social media game that it once ruled. As a part of the process, the company has just launched a new music app for the iPad: Music Romeo.
The app makes it simple to play, discover and save music videos from MySpace to your iPad. Just choose the type of music you want to hear (Pop, Rock, Jazz etc) and then pick a mood (happy, sad, naughty). Now the app will choose and play music videos for you from the vast music data base available on MySpace. The app has built-in controls to pause, skip, share and "love" different videos.
The app is called Music Romeo for a reason; The "Love" button. Using the button you can bookmark your favourite videos and play more videos like the ones you "Love." Romeo takes those "Loves" into account as it delivers new music videos to your doorstep.
Music Romeo uses algorithmic technology from We Are Hunted and scans social networks and blogs to check what music is currently doing the most rounds and what's hot to bring you the latest and most popular music available. It's a great integration of what a user like and what's hot on the net.
So, if you're an iPad user and happen to have a MySpace account that you no longer log in to, you may want to check back the new offerings it is bringing and become a Music Romeo fan.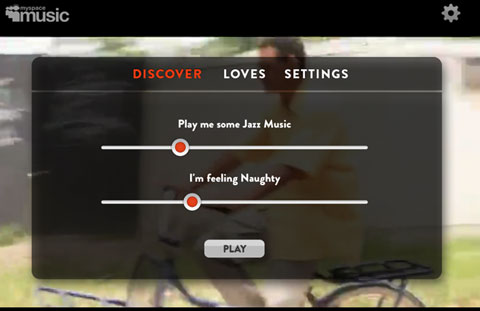 You Might Also Like:
Like this post? Post Comment and Subscribe RSS