Recommendations and suggestions seem to be the next big thing every where. After the iPhone and iTunes, Apple's iPad is the next one to get this stroke of "Genius". Apple is yet to announce it officially but there's a new and noteworthy addition to the iPad App Store called "Genius" which is already activated and can be found next to "Updates" at the bottom of the store. Users will need to agree to its terms of service before they start using it.
The new section is designed to help users discover apps catering to their tastes and preferences and finding new relevant apps via suggestions is a sure way to increase app sales and more downloads. "Genius" recommends new apps to users based on their previous purchases when they visit the "iPad Apps" section. A list of new apps which might be of interest to you is displayed and you have the option to choose as you please or hit the "Not interested" button below each suggestion and move on.
Another feature of the new "Genius" section is the "iPad Upgrades" that lists the iPad versions of your iPhone apps. The section will continuously update itself as more and more iPad versions of your favourite iPhone apps become available.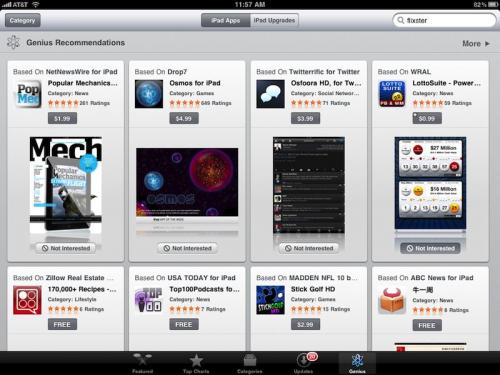 [via Macrorumors]
You Might Also Like:
Like this post? Post Comment and Subscribe RSS