All BlackBerry users love to brag about the BlackBerry Messenger feature which allows users to send instant messages to other users and the service is the most popular one on the RIM platform.
Some similar services are available for Android users but none of them is as efficient and functional as the new Kik messenger for Android. Kik has just updated its messenger for Android and it's good enough to compete with the BBM.
Once you set up your account, its smart features turn your phone into a Smartphone to Smartphone instant messaging powerhouse. Kik explained the following about the app in their official release:
• The app is now available worldwide. This is one of the reasons why we had to remove the SMS messaging, we could not offer that feature worldwide, and in order to make the fastest, most reliable app it had to go.
• Usernames have replaced Kik Codes. They were too long and hard to remember anyway.
• Much more user control – over threads, contact list, appearance. Your contact list will be wiped BUT over the next week – as people you had previously chatted with upgrade to the new version, you will receive a message letting you know ("Your friend _____ has now upgraded…). So people will acquire the same contact list as before.
• You will see "…is typing" messages while chatting with friends.
• Crazy fast, reliable receipts and overall better user experience.
The app is available to grab right now so get connected to your fellow Android users and beat the BBM today.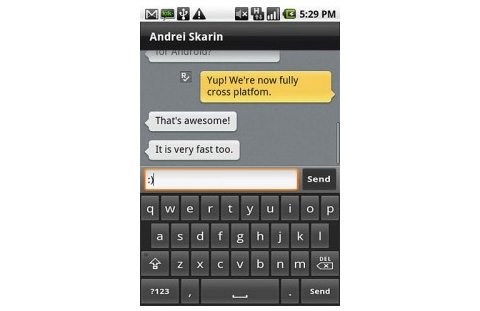 [via AndroidGuys]
You Might Also Like:
Like this post? Post Comment and Subscribe RSS