Skype has just released its official application for Android smartphones, fulfilling the demand that was being made by Android users for a while. If you're an Android user, you now have the facility to make free calls to other Skype users and send and receive instant messages to individuals or a group of up to 10 people. The app works over WiFi, 3G, EDGE and GPRS.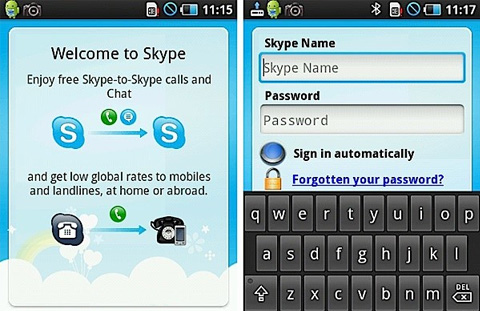 American users however, can only make calls over WiFi and the app is yet to make an appearance in China and Japan. Skype also confirmed that Skype Mobile is facing some difficulties with the Samsung Galaxy S phones but it's working on fixing the problem as soon as possible.
Skype is a massively popular service around the world for making free video calls and it recently increased the number of people that can take part in a group chat to 10. The service has affected the business of several internet voice services from giant companies like Google and it continues to gain new users rapidly. Skype's latest hook-up is with Facebook which will allow users of both services to integrate their accounts and more than 500 million Facebook users will have the facility to use Skype from within their profiles.
Skype's next beta version is about to launch soon bringing the Facebook integration and the company has chosen a very apt time to include the Android user base to its platform as it would obviously want Android's Facebook users to be able to join the party.
The app requires Android 2.1 or above to download and work on your mobile device and can be accessed at Skype.com/m.
[via Engadget]
You Might Also Like:
Like this post? Post Comment and Subscribe RSS