Apple had promised updating the Skype application after the launch of the new iPhone and iOS 4 bringing multitasking as users complained of having to keep the app open and in the forefront to avoid missing calls. This made multitasking impossible and Apple realised the problem vowing to fix it in an upgrade.
The upgrade is finally here which means that users can now accept Skype calls and instant messages while running other applications and also switch to other tasks while using Skype. Now calls made over 3G or WiFi will no longer be restricted to users who have Skype running in the foreground. Users will be alerted to an in coming call by a prompt showing the options 'Close' and 'Answer' when they're running the Skype app in the background and performing another task. They can answer the call and continue with whatever other function they were busy in.
The best news, however, is that Skype has dropped the idea to start charging for the Skype-to-Skype calls made over 3G. It was declared a bad step and potentially disastrous for the immensely popular service by all experts and users and looks like the company listened and has made a wise decision.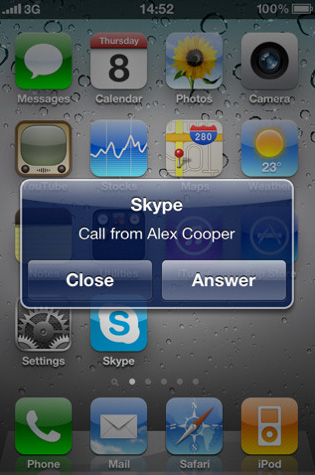 [via MobileCrunch]

You Might Also Like:
Like this post? Post Comment and Subscribe RSS