Yes, it's not number 1 but it's currently doing better than it ever has. A new report from IDC has revealed that Apple has pushed Acer to the 4th spot in the PC selling race and now enjoys 10.6% share of the market, standing behind Hewlett-Packard's 24.3% and Dell's 23.1%.
The IDC report reveals that despite being market leaders, HP and Dell's shipment levels have remained static during the last 1 year whereas Apple's shipments grew 24% in the same period. Apple shipped 1.99 million Macs in the U.S. during only the third quarter of 2010.
The entire U.S. PC market grew just 3.8 percent during the third quarter from a year ago, meaning Apple shipments of Macs grew at eight times the rate of everyone else. The only other company that saw good growth numbers in the last year is Toshiba.
Experts believe that a sudden growth in Mac sales could be a result of the popularity of the iPad as customers always tend to get attracted to a company and its other products if one of its devices proves to be a success. So while the iPad is affecting sales of other companies' computers, netbooks, notebooks and tablets, it's bringing in more buyers for its own company's computers.
Apple is all set to announce the new OS X for Macs on 20th October and it's obvious that revamped Macs which could also bring the convertible technology (OS X to iOS) will see some major sales in the coming months.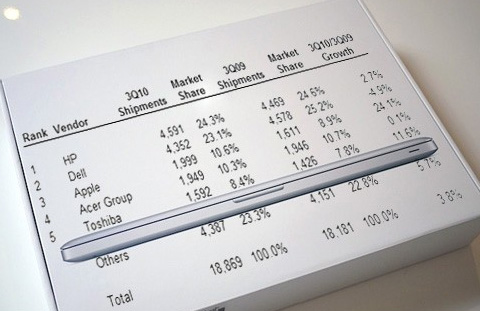 [via Engadget]
You Might Also Like:
Like this post? Post Comment and Subscribe RSS