If you're willing to pay $ 80, California based company Mophie is now shipping its brand new iPhone 4 cases which double your battery life, provide six extra hours of 3G talk time, 36 hours of bonus audio playback or nine hours of video playback. Mophie is a well recognised, award winning company that develops intelligent mobile devices and accessories and it has been developing cases for all Apple products since the beginning.
The product is called 'Juice Pack Air' and it's the 7th generation of Mophie's Juice Pack line. Mophie developed the first ever portable battery case for the original iPhone and since then has innovated and updated its designs for all new Apple products. It's regonised and certified by Apple and its products are available in Apple stores. Now, Mophie is presenting what it calls "the very best of seven generations of product development and design".
The Juice Pack Air provides on-the-go power to the iPhone 4 via its light-weight and ultra-thin external rechargeable battery case. The new Juice Pack Air is the first of several products planned for 2010 and joins the juice pack legacy line of award-winning designs. The juice pack virtually doubles the battery life of the iPhone and its soft touch hardware also provides protection from bumps, bangs and drops.
Mophie explained the benefits of the Juice Pack Air in detail in their official press release and the list sure makes the $ 80 price look reasonable. Available in Black and Silver from mophie.com, your nearest Apple store or at Best Buy outlets, the Juice Pack Air provides you with:
– Up to an additional 6 hours on 3G, up to 12 hours on 2G, of Talk Time.
– Up to an additional 36 hours of Audio Playback.
– Up to an additional 9 hours of Video Playback.
* Advanced Battery Technology – Highly condensed lithium polymer battery delivers an incredible amount of juice in a small form factor and features built in overcharge, short circuit and temperature protection.
* Efficient Electronics – Embedded electronics results in no signal interference with the iPhone 4.
* Acoustic Sound Enhancement – The case design acts as a virtual speaker box, redirecting sound from the bottom of the iPhone 4 to the front, resulting in a richer, fuller sound quality.
* 4 Light LED Battery Status Indicator – An integrated LED status indicator tells you exactly how much "juice" is left and also displays how much time remains during the charging process.
* Quick Speed – 500 milliamps fast charge technology, with an advanced battery for added safety, as well as 1500 mAh capacity.
* Soft-Touch Finish – Sleek design includes a new, soft-touch, rubberized finish and silver band that mirrors the aesthetic of the iPhone itself.
* Pass-through USB – Included USB cable enables you to simultaneously charge and sync your iPhone 4 to iTunes without having to remove it from the juice pack air.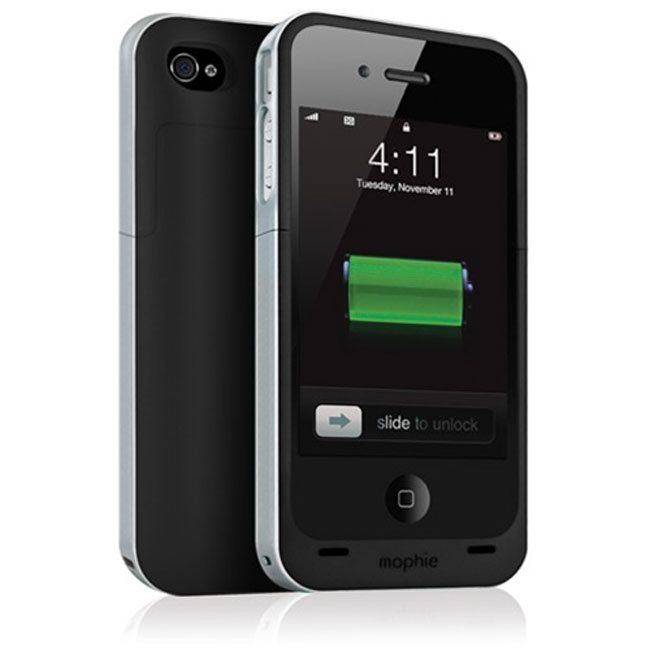 [via Mophie]
You Might Also Like:
Like this post? Post Comment and Subscribe RSS