At the Apple press conference last week, Steve Jobs announced the arrival of the company's new game centre that'll be launching with the latest version of the iOS. Now, the iOS 4.1 update is reportedly releasing on 8th September and gaming addicts can't wait to find out what's in store for them.
Steve Jobs explained that the new gaming services will be available on all portable Apple devices and will allow users to keep track of their games, play against friends online, enable competitive matchmaking and earn achievements like they can on the Xbox Live service on Microsoft's console.
Apple's CEO did not hesitate from taking names in his presentation and claimed that total sales of iOS devices now exceed the combined sales of Nintendo's DS and Sony's PSP and that the iPod touch is now the number one portable games platform.
The latest game to debut on the new gaming centre that may launch tomorrow is 'Project Sword'. Developed by Epic Games, Project Sword runs on their Unreal Engine and has touch controls. It seems to be level based with panels allowing you to select the levels on a main menu. The game allows you to move around a fully developed 3D environment in a point and Click style, with directional arrows to guide your character.
The game centre app will allow users to link up with friends and see how well other players are doing on compatible games. You can also challenge other users to multiplayer games all through the App without the need to select the game at all.
Those of you who wish to see the castle featured in Project Sword up close before the release you can download it from here.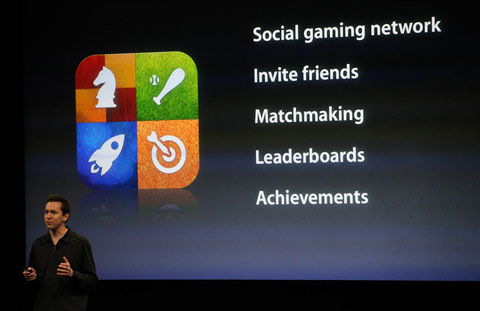 You Might Also Like:
Like this post? Post Comment and Subscribe RSS