It was Digitimes from Taipei, Taiwan who first revealed a few details about the future of Apple TV a couple of days ago. Now Engadget is confirming what they reported and has also revealed some more information about the iTV. Yes, Apple TV is no more the name for the company's soon to be released set top box. Apple is reverting back to the original name, iTV, that it first announced in 2006. Priced at $ 99, the iTV will come with iOS app support and other internals akin to that of the iPhone 4 (A4 CPU, 16GB of flash storage), and a new iTunes streaming service is also rumoured to be in the offing.
The somewhat disappointing news is that Apple is downgrading the video output on the device to 720p. It was rumoured to be1080p all this time, but Engadget's sources claim the version of the A4 chip being used in iTV isn't powerful enough to push full HD video. With just 16GB of flash media storage, the iTV will probably be offering video streaming capabilities off of other computers or Apple servers.
It's still not confirmed whether the iTV will support the current iOS apps available for the iPhone or iPad or should developers get busy creating new ones exclusively for the new device. Either way it's going to be a new frenzy and the next big thing in the tech universe as it always is with all new Apple offerings. So, who's ready to switch to the iTV?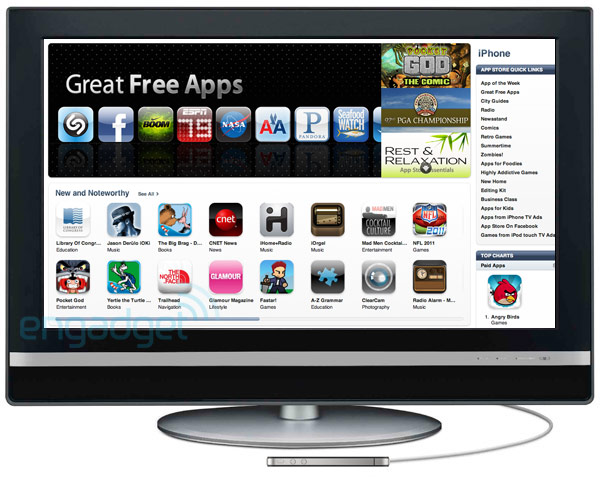 [via Engadget]
You Might Also Like:
Like this post? Post Comment and Subscribe RSS