It looks like Twitter's 'Follow' feature is all the rage these days. After Apple introduced it in their new musical social network 'Ping', Facebook has also jumped on to the bandwagon. AllFacebook reports that Facebook is testing a new subscription feature that will let users closely follow someone they are already friends with (or fan pages), by getting alerts when they update. Unlike Twitter, you can't 'subscribe' to people you're not friends with.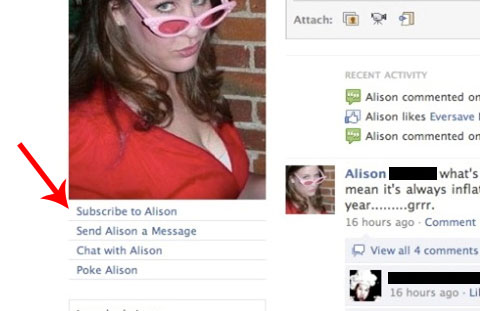 Facebook explained to the blog (AllFacebook) about the functionality of the new feature saying:
This feature is being tested with a small percent of users. It lets people subscribe to friends and pages to receive notifications whenever the person they've subscribed to updates their status or posts new content (photos, videos, links or notes).
When you click to subscribe to a user, you'll get a new Facebook notification in your notifications bar at the top or on your mobile device any time that user posts content. The feature is already starting to appear on some users' profiles but it's still not clear whether users can prevent someone from subscribing to their updates like on Twitter where the 'Block' option gets rid of an unwanted follower.
It also remains to be seen whether users will be able to subscribe to specific features from another user and can someone make some particular features on their profiles (personal videos, photos, etc) unavailable to subscribe to for a group of friends.
This feature could be a hit or it could further aggravate users' complaints about their privacy controls. Facebook is a service which became massively popular because it allowed users to keep their profiles private from the world and was all about family and chosen friends. If it becomes another hub for internet stalking, its original purpose just may die sooner than later. Till all details about the feature emerge, it's wait and watch for the rest of us.
[via Mashable]
You Might Also Like:
Like this post? Post Comment and Subscribe RSS