It may seem a little ambitious right now but this could be the first step towards a new revolution in TV viewing. It's already happening in the world of cinema where every other movie is now shot in or converted to 3D (like in the case of the 7th Harry Potter movie) after filming. It's not just sifi movies that are going 3D but children's classics like Shrek 4 have gone 3D too this year. It was a matter of time to bring the 3D experience to people's homes and already 3D TV sales look pretty encouraging.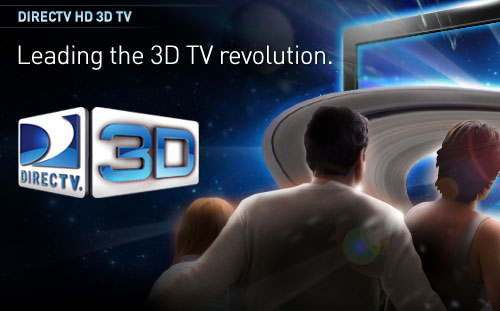 DirecTV and Panasonic inaugurated America's first 24 hour 3D network (consisting of 3 channels) today, sending n3D out on channel 103 to all properly equipped viewers. The equipment needed for a 3D experience at home requires of course a 3D TV, an H21 or higher satellite receiver and some 3D specs for the family. The programming is a little limited for now as the network is just starting but sports fans can enjoy the up coming NASCAR Race, an exclusive 3D feed of the MLB All-Star Game, Football World cup games from ESPN 3D through video on demand and lots of IMAX movies available on the new DirecTV Cinema 3D channel.
From flat screen plasma TVs to 3D TVs, the journey may not be that difficult or implausible and we may be witnessing the next big thing beginning to happen right before our eyes.
Visit DirecTV's 3D Web site to get more information on the n3D channels.
[via PCWorld]
You Might Also Like:
Like this post? Post Comment and Subscribe RSS