Nokia did it first and now Verizon is following suit. Looks like it'll be long before Apple sees the last of these mockeries and who can blame those coming up with them? Apple brought it upon themselves and Verizon has refused to play nice only because it'll be selling the new iPhone soon. Verizon took out a full page ad in the New York Times flaunting the new Droid X smartphone by Motorola and included a shot similar to the one taken by Nokia on their blog a few days ago.
The ad, after proudly announcing all the smart features of the new Android based phone launching on July 15th, goes on to tell the customers:
And most importantly, it comes with a double antenna design. The kind that allows you to hold the phone any way you like and use it just about anywhere to make crystal clear calls.
Ever since the iPhone 4 came in to the market and Motorola unveiled the Droid X, comparisons between the two have been the hottest topic on the web and most reviewers have given a thumbs up to the Droid X. Tech experts and users are of the opinion that the iPhone still lacks a few features and its wish list reads like the Droid X's feature list. Apple did not help its case by first denying and then issuing a bizarre explanation of the iPhone antenna issues. No wonder class action law suits were filed against Apple and it was taken to the cleaners by buyers, reviewers and plain haters alike. They'll be lucky if companies launching new phones in the coming days refrain from taking shots at their obvious mishandling of the whole situation.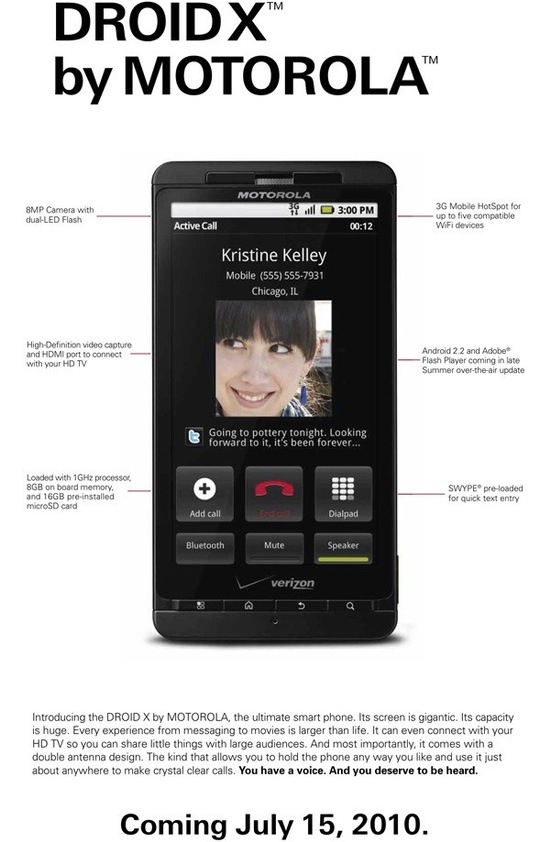 You Might Also Like:
Like this post? Post Comment and Subscribe RSS