The press was given a detailed preview of the new Android based smartphone Droid X from Motorolla yesterday and its features were making some huge splashes all around. Users were quick to note the areas where the Droid X scores over the iPhone and some of them make for pretty solid reasons to buy a Droid instead of the new iPhone.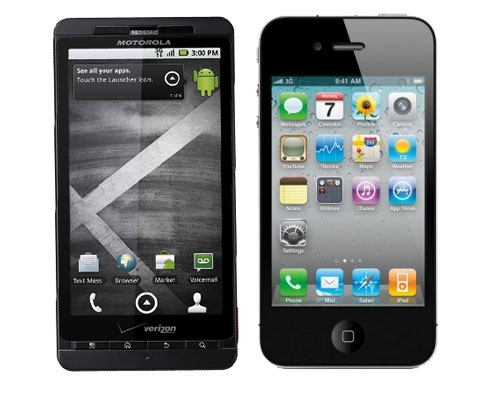 First of all, it's surprising that Apple is offering only a 5 megapixel camera when all other smartphone challengers like HTC, Motorola (MOT – News) and Nokia (NOK – News) embrace the megapixel race with 8-megapixel and 12-megapixel cameras. As reported earlier, Droid X is equipped with an 8 megapixel camera which can record video in 720p HD and 4.3 inch screen. iPhone only has a 3.5 inch screen.
Droid X comes pre-loaded with Swype which makes typing easier and quicker as it follows the pattern of your finger movements to type words or predict words without the usual hunting and pecking. iPhone's touchscreen typing system, on the other hand, is prone to mistakes and overtyping and users addicted to Swype find the procedure archaic.
iPhone's video chatting feature maybe a great new innovation in the smartphone context but it isn't all that universal a feature like Skype. If you want to video chat with someone, they need to have WiFi and also need to use the same app as yours. That's a limiting factor instead of opening the floodgates to a new revolution in the world of video conferencing.
There isn't much use of a smartphone if it loses signals, drops calls and slows your downloads merely because you held it from its sides, is there? The Droid x also boasts of Flash 10.1 support and 8 hours of 3G talk time compared to 7 hours of the iPhone. The decision is yours.
[via YahooFinance]
You Might Also Like:
Like this post? Post Comment and Subscribe RSS