Microsoft has just announced in a press release that it'll be launching its Windows Phone 7 with more than 63 Xbox Live games to take mobile gaming to the next level. The phone will integrate all the aspects of Xbox Live that hardcore gamers love: Multiplayer, messaging, leaderboards, full game library access and more.
MS also explains that the game count currently stands at 63 but a lot more will be there when finally the Windows Phone 7 reaches consumers' hands. The games include well-known titles such as Castlevania and Guitar Hero, classically inspired numbers such as Frogger, casual games like Bejeweled and many more.
Microsoft Game Studios' general manager of mobile gaming, Matt Booty said in an official statement today:
Windows Phone 7 is the launch of a major gaming platform for Microsoft. Just like we've done with Xbox 360, our charter is to push the envelope and deliver definitive games that maximize the platform. We will have an incredible line-up of MGS titles, and that's just the beginning.
Windows Phone 7's gaming content will come from Xbox Live, Microsoft Game Studios, and major and independent game publishers. Some of their launch portfolio games include titles from Gameloft, Konami Digital Entertainment, Namco Bandai, PopCap and THQ.
If you're an Xbox fan and like the idea of playing your favourite games on your cell phone, Windows Phone 7 is the answer to your prayers. You can check out the list of the games below which is promised to be bigger at the phone's launch.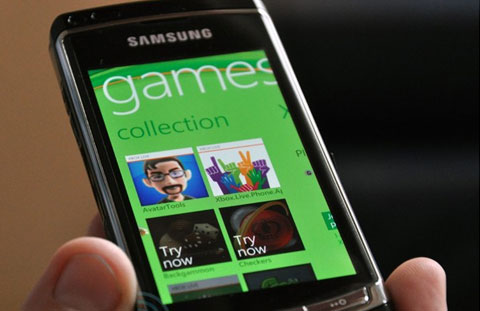 • 3D Brick Breaker Revolution (Digital Chocolate)
• Age of Zombies (Halfbrick)
• Armor Valley (Protégé Games)
• Asphalt 5 (Gameloft)
• Assassins Creed (Gameloft)
• Bejeweled™ LIVE (PopCap)
• Bloons TD (Digital Goldfish)
• Brain Challenge (Gameloft)
• Bubble Town 2 (i-Play)
• Butterfly (Press Start Studio)
• CarneyVale Showtime (MGS)
• Castlevania (Konami Digital Entertainment)
• Crackdown 2: Project Sunburst (MGS)
• De Blob Revolution (THQ)
• Deal or No Deal 2010 (i-Play)
• Earthworm Jim (Gameloft)
• Fast & Furious 7 (i-Play)
• Fight Game Rivals (Rough Cookie)
• Finger Physics (Mobliss Inc.)
• Flight Control (Namco Bandai)
• Flowerz (Carbonated Games)
• Frogger (Konami Digital Entertainment)
• Fruit Ninja (Halfbrick)
• Game Chest-Board (MGS)
• Game Chest-Card (MGS)
• Game Chest-Logic (MGS)
• Game Chest-Solitaire (MGS)
• GeoDefense (Critical Thought)
• Ghostscape (Psionic)
• Glow Artisan (Powerhead Games)
• Glyder 2 (Glu Mobile)
• Guitar Hero 5 (Glu Mobile)
• Halo Waypoint (MGS)
• Hexic Rush (Carbonated Games)
• I Dig It (InMotion)
• iBlast Moki (Godzilab)
• ilomilo (MGS)
• Implode XL (IUGO)
• Iquarium (Infinite Dreams)
• Jet Car Stunts (True Axis)
• Let's Golf 2 (Gameloft)
• Little Wheel (One click dog)
• Loondon (Flip N Tale)
• Max and the Magic Marker (PressPlay)
• Mini Squadron (Supermono Limited)
• More Brain Exercise (Namco Bandai)
• O.M.G. (Arkedo)
• Puzzle Quest 2 (Namco Bandai)
• Real Soccer 2 (Gameloft)
• The Revenants (Chaotic Moon)
• Rise of Glory (Revo Solutions)
• Rocket Riot (Codeglue)
• Splinter Cell Conviction (Gameloft)
• Star Wars: Battle for Hoth (THQ)
• Star Wars: Cantina (THQ)
• The Harvest (MGS)
• The Oregon Trail (Gameloft)
• Tower Bloxx NY (Digital Chocolate)
• Twin Blades (Press Start Studio)
• UNO (Gameloft)
• Women's Murder Club: Death in Scarlet (i-Play)
• Zombie Attack! (IUGO)
• Zombies!!!! (Babaroga)
[via Engadget]
You Might Also Like:
Like this post? Post Comment and Subscribe RSS