It may be legal to jailbreak your phones and other devices in the US but that doesn't mean companies will let go of the money they're likely to lose so easily. Apple products are apparently the biggest target of legal jailbreaking and of course they don't like it. The company has applied for a patent titled "Systems and Methods for Identifying Unauthorized Users of an Electronic Device," that covers a series of security measures to automatically protect devices from thieves and other "unauthorized users."
Apple is masking it as a security measure to protect your devices and all personal information from thieves but it will obviously affect all legally jailbroken devices too. Apple filed the application in February 2009 and listed a bunch of activities, detecting which, Apple will be authorised to take action like alerting the user via email or text, restricting the device's functions and even killing/bricking the device completely.
This is not good news for all those who have jailbroken iPhones, iPads and iPods as the activities Apple has listed in its applications include "hacking, jailbreaking, unlocking, or removal of a SIM card." To be fair, the application was filed last year, as stated above, when it was still illegal to unlock and jailbreak your devices but it remains to be seen whether Apple re drafts or re phrases the application or not.
Security measures that Apple seeks to take in case of "suspicious activity" are pretty strict as they are aimed at potential thieves. Apple proposes activation of a camera that could capture and geotag the device's surroundings, and perhaps current user, and transmit that information to a remote device. Here's what exactly the application says:
In some embodiments, an unauthorized user can be detected by comparing the identity of the current user to the identities of authorized users of the electronic device. For example, a photograph of the current user can be taken, a recording of the current user's voice can be recorded, the heartbeat of the current user can be recorded, or any combination of the above. The photograph, recording, or heartbeat can be compared, respectively, to a photograph, recording, or heartbeat of authorized users of the electronic device to determine whether they match. If they do not match, the current user can be detected as an unauthorized user.
Once unauthorised access is confirmed, Apple suggests that "access to particular applications can be restricted, access to sensitive information can be restricted, sensitive information can be erased from the electronic device…," This basically means practically wiping clean and bricking your favourite Apple device.
Apple has not issued an official statement on the matter and it's going to be difficult for them to defend the move as just a security measure against stealing. There is already an app to locate lost and stolen iPhones called "Find my iPhone" and if Apple just wanted to protect users' devices against thieves, they could further upgrade the app and roll it out for other devices too. The above patent, if granted, will greatly affect all those who want to escape the tyranny of their service provider and run perfectly legal apps from other sources. Let's wait and watch the saga unfold.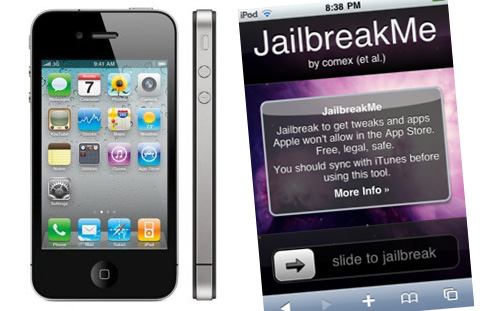 You Might Also Like:
Like this post? Post Comment and Subscribe RSS