iLIVEx is a new iPad app from a California based, Silicon valley company called StarNet, which is now available in the Apple App Store for $ 14.99. The app turns an iPad into an X terminal, which basically means that you can run Linux, do advanced multitasking and even run Flash based app on your Apple tablet.
An X terminal is generically referred to as a dumb terminal because the data processing is done on the server not the client and this app is especially designed to turn the iPad in to an X terminal for Linux, Unix, mainframe, and supercomputers. iPad users can now connect to Unix and Linux desktops and applications hosted on remote Unix and Linux servers using the app.
StarNet claims impressive speed levels and stability on the app, saying:
iLIVEx features an ultrathin data transfer protocol allowing for LAN-like performance, even over 3G connections. Connections run over securely encrypted SSH (Secure Shell) tunnels. Built-in session persistency allows users to reconnect to their remote desktops should the iPad gets disconnected, turned off, or the user temporarily switches to another iPad app.
iLIVEx can also be used by non-Linux users, allowing them to run a remote desktop. When purchased, StarNet provides a free Linux desktop account on a StarNet-hosted Linux server. On their remote desktop users get "a number of capabilities not currently available on iPads," the company said.
StarNet claims the following capabilities for iLIVEx clients on an iPad:
• Viewing Flash: by way of Firefox on their remote Linux desktop, iPad users can employ iLIVEx to work with Flash-based Web sites and applications.
• True multitasking: iLIVEx users can work on multiple office applications (word processor, e-mail, spreadsheet, and so on) simultaneously and copy and paste data between them.
• Persistency: Users can reconnect to their remote Linux/Unix desktop at any time, even after the iPad has disconnected from the network. "No work is lost due to a disconnect," StarNet says.
• Desktop Switching: Users can seamlessly switch remote desktops between iPads, Windows, Linux, and Macintosh PCs.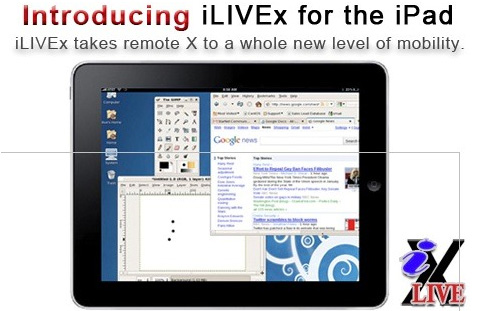 [via CNet]
You Might Also Like:
Like this post? Post Comment and Subscribe RSS